Department of Basic Sciences and Humanities play a major role in making the foundation of the future engineers. For this the students are groomed at first year level by organizing various activities during the session in the form of workshops, seminars, poster making competition and other curricular and co curricular activities. etc (related to their first Year syllabus). Students were given the liberty to explore and express their views and ideas through these various activities. They were also encouraged to show their creativity in different competitions with positive purpose to face the challenges and competitions thus helps to facing at the hidden talent of student and become a more confident individual. Its first year department which proves to all new students what the college is & make them comfortable in the commencement of their college life. An annual gathering 'JALSA' is celebrated every year to boost the hidden potential and talent of the student and to refresh the mind of the student. To maintain healthy inter personal relation between students, faculties and parents ,Teacher-Guardian Scheme and Parent-Teacher meet are being organized on regular basis.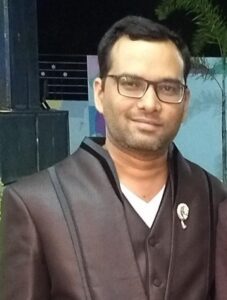 Mr. Rupesh P. Ghonmode
First Year Co-ordinator
Qualification : M-Tech
Specialization : Machine Design

Mr. Rupesh P. Ghonmode completed his M-Tech from prestigious college VJTI, Mumbai and B.E from RCERT, Chandrapur. He has more than 10 years of experience in teaching and 2.5 years of experience in industry. Being an active coordinator, he is always focused on overall development of student in academics, co-curricular, extra-curricular and career growth. He is good mentor who provides the tools, guidance, support, and feedback which students need to thrive in their career.


Vision
"To ensure overall development through sound knowledge and practical based technical education to make them globally competitive."
Mission
Impart technical knowledge effectively through comprehensive curriculum and application oriented learning

.

To collaborate with reputed institutes and industries to impart and develop problem solving abilities among the students

.

To develop a unique culture that instills responsibility and accountability.


List of faculty members
| | | | | | |
| --- | --- | --- | --- | --- | --- |
| Sr. No. | Name | Qualification | Designation | Name of the Department | Gender |
| 1 | Ms. Swati Padole | M.SC | Lecturer | First Year Co-ordinator | Female |
| 2 | Mrs. Himani Badwaik | M.SC | Lecturer | First year/other | Female |
| 3 | Ms. Shital Bhoyar | M.SC | Lecturer | First year/other | Female |
| 4 | Mrs. Priti Morey | MA | Lecturer | First year/other | Female |
| 5 | Mr. Mangesh Thakur | M-TECH | Lecturer | First year/other | Male |
| 6 | Nitin Padghan | M-TECH | Lecturer | First year/other | Male |
| 7 | Shruti Shirbhate | M-TECH | Lecturer | First year/other | Female |


List of major Equipments:
Name of Lab
Main Equipment
Cost in Rs.
Photo

Physics lab

P-N Junction Diode Kit




Energy Band Gap Kit




Laser Apparatus




Spectrometer




12000/-




12000/-




12000/-




11200/-




Chemistry lab




Able's Apparatus




Muffle Furnace




Electric Oven




Ph meter




Bunsen Gas burner




14220/-




13320/-




12800/-




15750/-




13500/-




Mathematics lab




Computers




115000/-




Language lab




Computers 




ACC DLL software




Projector 




ETNL L. lab software




363930/-




80000/-




22488/-




95000/-




ICT lab




Computers




14,57,133.00/-





Engineering Mechanics Lab
Language Lab
Physics Lab
Chemistry Lab
ICT Lab




Induction Programme "Aarambh" to welcome newly admitted Diploma 1st year students. Honorable secretary Mr. Ranjit Chafle and Principal Dr.V.G. Arajpure guided the students and motivate them for upcoming challenges in engineering.


National youth day celebration
Yoga day celebration
Yoga day celebration